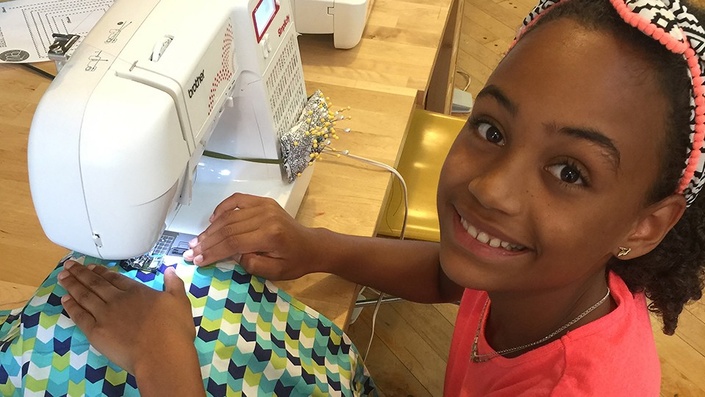 Teach Your First Kids Sewing Summer Camp
Hipstitch Academy's comprehensive guide to creating, promoting and running your first sewing summer camp that kids will love!


Megan Avery, the founder of Hipstitch Academy has created this online course to share her years of expertise teaching kids summer camps.
In this 8-part online training program, Megan personally guides you through launching your first sewing summer camp for kids based on what has worked for her camps (and what hasn't) while running them for the last 10+ years.
Take this course and:

You'll learn how to run a kids sewing camp from an expert who's been doing it since 2007 (and is still doing it).


You'll be ready to start teaching kids to sew THIS SUMMER!


You'll have access to our popular kids sewing project curriculum that's been tried & tested in many, many kids kids sewing classes and camps.



You'll have so much confidence & expertise parent's will think you've been doing this for years!
This online training includes 8 course modules (including video, transcripts & PDF worksheets) that will walk you through launching your very first sewing summer camp.
From setting dates to hiring instructors, getting sign ups to last day of camp Runway Show, we'll show you all the important steps in between!
If you love kids and know how to sew, I'm confident I can help you to successfully launch a sewing summer camp that kids will be coming back summer after summer!
This Course Includes the following 8 Modules:
Introduction - Megan will share with you why this is such an important training for her to share.

Scheduling and Registration - Which registration software? How should you break up the day? What should you charge & More!

Hiring Instructors - How to take the headache out of finding rock stars to teach your summer kids classes.

Where to hold your camp - Did you know that you can turn just about any place or room into a sewing studio. In this section we'll help you figure out where you can hold your camp. You'll be surprised because it's easier than you think!

How to Get Kids to Sign Up - Probably one of the most important part of the training. What's a summer camp if no one signs up? We'll share our sure fire promotional tips to help make sure you get your camp filled.

Kids Sewing Safety - Also an extremely important section, this is where we'll talk about how to make sure all your kids stay safe while at your summer camp! We've got so many tips and tricks for you in this section.

Summer Camp Curriculum - Here's where we'll talk about what to teach, what projects and project themes work really well for camp and where you can find curriculum to teach at camp (besides ours)!

Summer Camp Pep Talk - Here's where we'll give you the little nudge you might need to get out there and make it happen!
Price $299

As a Bonus you'll also get:


2 Kids Sewing Camp Curriculum Themes (10 projects)

30 Minutes of One-on-one Personal Video Coaching with Megan

Q&A Board where Megan will answer all your questions